Watch Video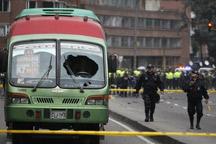 Play Video
A car packed with more than 50 kilograms of explosives has blown up in Colombia's capital Bogota, injuring at least nine people. Police are investigating who is responsible for the blast and what their target was.
The blast happened at 5:30 am local time outside a 12-storey building housing broadcaster, Caracol Radio, Spanish news agency EFE and the Ecuadorian consulate.
It shattered windows in at least 30 surrounding buildings and destroyed the facade of a nearby bank.
Claudia Cristina Narvaez, Bogota resident, said, "The explosion was loud and terrifying. All the glass from the windows shattered over my bed. It's difficult to describe how chaotic the situation was."
Cesar Pinzon, Bogota Police Chief, said, "The vehicle used in the bombing was a Suzuki hatchback. We are verifying the identity of the owner to determine whether it had been stolen."
Fortunately, nobody was killed in the blast. At least nine people were injured. Most were treated for minor injuries and released, but three people remain hospitalized.
Police officers investigate at the scene of a car bomb explosion in Bogota
August 12, 2010. A suspected car bomb exploded on Thursday in the north of
Colombia's capital Bogota outside a main radio station, slightly injuring
9 people and blowing out windows in a rare urban attack.(Xinhua/AFP Photo)
No arrests have been made in connection to the bombing. Prosecutors say it's too early to determine the intended target of the attack.
President Juan Manuel Santos hurried to the scene and branded the explosion "a terrorist act".
Juan Maneul Santos said, "Like any other terrorist act, this aims to generate fear in people and raise doubt in the authorities. But the attackers will not be successful. This reminds us that we cannot lower our guard for the democratic security."
President Santos toured the blast site and urged Colombians to go on with normal activities.