Watch Video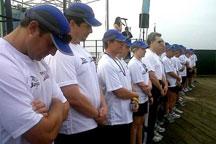 Play Video
Firefighters from the United States and Australia have teamed up in California to begin a month-long run across the US.
The " Tour of Duty" is being held to commemorate the emergency workers who lost their lives in the September 11 terrorist attacks.
A total of 32 runners will be divided into three groups and take turns in the round the clock run. Starting at a beach in California, the more than 7-thousand-kilometer-long route takes in Las Vegas, Oklahoma City, New Orleans, Washington D.C. and finally ends in New York.
More than 400 emergency workers were killed in the attacks on the city's twin towers in 2001.
James Dowdell, New York Firefighter, said, "I feel like contributing, you know. All the firemen that got killed, there's 343 firemen, 411 emergency service workers. So that's a lot of families that are there, that lost a loved one, who gave the ultimate sacrifice. It's trying to help. It's just a small token we could do to show them that we're still with them."
Editor:Zhang Pengfei |Source: CNTV.CN