Watch Video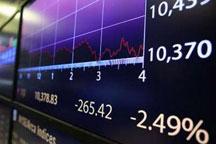 Play Video
Stocks and interest rates fell sharply in the United States on Thursday, as more bad news chipped away at investors' view of the economy.
The slide continued for a third straight day as an unexpected rise in jobless claims and a sobering revenue outlook from Cisco underscored the hurdles to economic recovery.
The drop comes a day after all three major indexes posted their worst percentage declines in more than a month.
The Dow Jones industrial average fell 58 points and now has an almost 380 point loss over the past three days. The Dow has also fallen five of the last six days. Meanwhile, the Nasdaq composite index had an even steeper loss in terms of percentage.
Sam Stovall, Chief Investment Strategist, Standard and Poor's, said, "We have continued concerns about the health of the US economy, combined with how soft will the Chinese economic landing be, and then also now that the second quarter earnings reporting season has pretty much run its course. Now the question is well what kind of data are we likely to see for the third quarter? So, I think in general investors right now are really just trying to figure out how weak the economy will become, whether we will go into a double dip and if it will be accompanied by deflation."
Editor:Zhang Pengfei |Source: CNTV.CN