Watch Video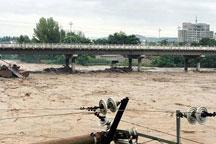 Play Video
New rainstorms in Longnan City in northwest China's Gansu Province have killed 20 people, and 16 others are missing.
The rain triggered landslides which blocked two main roads in the city. Power and communications in at least three counties have also been cut.
Eight counties in all have been affected by the storms, and nearly ten thousand of people have been evacuated from their homes.
Local authorities have set up an emergency flood control headquarters, and rescue and relief work is underway.
Related stories