Watch Video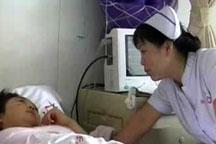 Play Video
The loss of loved ones and property are usually the most pressing issues after a natural disasters. But addressing the psychological trauma of survivors is also a priority.
Thanks to mental health doctors of Tianshui Third People's Hospital, life in Zhouqu has been easier for some.
The landslide took everything from Liao Yongwen.
He was by his wife's side during the last moments of her life. The last message she left him was to take care of his family. After three days, he was rescued. But the psychological trauma was too much. After arriving at a hospital, he didn't eat, drink or speak.
Hou Aiguo, Vice President, Tianshui 3rd People's Hospital, said, "We talk to patients face to face. We want them to talk about their pain. We share their grief, to let them release their pain, so that we can help them get through their hardest time."
After a few days of psychological treatment, Liao Yongwen began to talk.
Liao Yongwen, said, "We have material support and someone to rely on. The psychological problems can be dealt with."
17-year-old Su Feng-lei couldn't hold back her tears after arriving at a hospital on Tuesday. Mental health workers spent a lot of time with Feng-lei, chatting and walking with her. After a few days, Feng-lei began to smile again.
Mental health doctors say there are many people in need of help. They stress that Zhouqu residents don't have to repress their feelings, and should instead speak about their pains out loud, in order to put their grief behind them.
Related stories
Editor:Zhang Pengfei |Source: CNTV.CN