Watch Video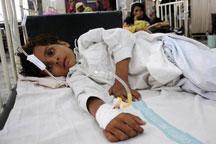 Play Video
It has been more than two weeks since the monsoon rains-triggered flooding hit Pakistan's northwest.
The United Nations estimates up to 7 million people need emergency assistance. Even worse, experts fear waterborne diseases could quickly spread.
Saeed Khan, a former taxi driver waits by the roadside every day in the hope that a food relief truck will stop and hand out much-needed supplies.
When a truck does stop, Saeed and dozens of other flood victims rush to form a queue.
Today Saeed is unlucky and the truck leaves before he gets a food parcel.
However, the flood victims not only face hunger, but the risk of waterborne diseases.
Saeed Khan, Flood Victim, said, "We've got sick because of all this, my children are sick, I am sick with diarrhea and stomach infection, there is disease all over the place."
Lack of clean drinking water and sanitation have put millions in danger of falling ill.
Medical teams have been sent to the flood hit areas of the country amid fears that diseases could become widespread.
In one of Nowshera's universities, doctors from Peshawar have set up a free health clinic for various ailments.
Hazratullah Khan, Doctor, said, "So far we have noticed three major diseases: the first one is diarrhea, which is because of dirty water and lack of hygiene; then there are throat and chest infections after living outside for so many days and getting wet in the rain; and thirdly skin diseases, the children are developing skin ulcers."
Meanwhile, some NGO staff are chlorinating the government's water supply, 200 milliliters of chlorine solution for each tank.
Pakistan's Ambassador to the UN, Abdullah Haroon, says more supplies of clean water are needed to prevent cholera and other diseases.
Pakistani Prime Minister Yousuf Raza Gilani has appealed for more help from the international community, as authorities rush to evacuate thousands of people still threatened by flooding that has submerged villages in the south.
Related stories
Editor:Zhang Pengfei |Source: CNTV.CN