Watch Video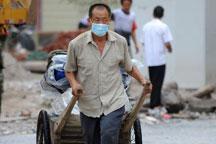 Play Video
Rescue and relief crews in Zhouqu County have stepped up efforts to restore critical supplies of goods and services in the disaster areas.
Local emergency response authorities have begun the supply of water and power as well as telecommunications services for local residents. Road links from the countyseat to the outside world have also been restored.
Water supplies in Zhouqu are gradually returning to normal following swift repairs.
Relief workers are streamlining water to local residents, after locating two new drinking water sources and 21 unpolluted wells.
Large, mobile drinking water trucks have also arrived at the disaster scene, providing residents with access to drinking water at their doorstep.
Resident, Zhouqu Conty, Gansu Province, said, "We used to get water from our neighbors' wells, but we were afraid of contamination. This water is safer."
Power has been restored in the key regions of the county seat and at 60 percent of local households.
All ten mobile telecommunication base stations have also resumed operation.
Meanwhile, rescuers are speeding up efforts to clear the roads, so that more relief materials can arrive to the disaster zone.
Zhang Enbo, Driver, Gansu Province, said, "Our job is to clear the mud and lay gravel, so that cars can go through."
So far, the main roads at eastern and western entrances of the Zhouqu county seat have been cleared.
Elsewhere, five teams of relief workers continue to clear upper reaches of the Bailong River, which overflowed after being blocked by debris.
Zhou Qingfeng, Rescuer, Gansu Province, said, "We've been digging since last night to ensure the water can flow smoothly and is not obstructed by mud. Currently, we're downstream. It's important this channel remains open so that water doesn't breach the upper reaches."
A total of more than 6-thousand soldiers and armed policeman are participating in the rescue and relief work in Zhouqu. They have saved 45 lives and delivered more than 800 tonnes of relief supplies.
Related stories
Editor:Zhang Pengfei |Source: CNTV.CN