Watch Video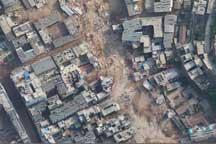 Play Video
Two public mourning ceremonies will be held for victims of the Zhouqu landslide at 10am on Sunday in Gansu province, according to a provincial public notice.
One will be held in the provincial capital of Lanzhou, with the other at the disaster zone in Zhouqu County.
Zhouqu County suffered unprecedented destruction in the landslides and floods. The region is abundant in natural resources, including waterpower, minerals, traditional Chinese medicine materials and forests.
It spans more than 3-thousand square kilometers, and includes 22 townships and over 200 villages. Ethnic Tibetan herders and farmers account for about a third of the county's population of 130-thousand.
The county's terrain is dominated by steep and barren hills. The average temperature is around 12 degrees Celsius through the year.
Related stories