Watch Video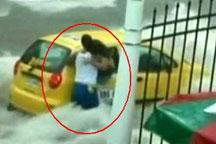 Play Video
An amateur cameraman in northern Colombia has filmed the dramatic rescue of three women from a flash flood.
The women were rescued from their stranded taxi in the town of Barranquilla. With little thought for his own safety, rescuer Giancarlos Gonzalez waded through the torrent and carried the women to safety.
When the taxi driver tried to get out, he was swept away by the current, but was luckily rescued by soldiers downstream.
Giancarlos Gonzalez, Rescuz, said, "In desperation, I went to help the girls who were stranded in the taxi. I was tied to a rope and I went out to help them because they were in trouble. Fortunately, we were able to help them and everything was okay."