Watch Video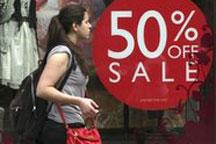 Play Video
The Eurozone economy has shown robust growth, with 16 countries growing by one percent during the second quarter.
Germany has taken much of the credit for leading the growth, as its economy has expanded at its fastest pace in 20 years.
Figures show the eurozone grew at its fastest rate in nearly four years, even faster than the US during the same quarter.
It defied pessimistic expectations from just a couple of months ago, when Europe was threatened by a severe government debt crisis.
Europe's biggest economy, Germany, led the way - up 2.2 percent in the second quarter compared with the quarter before.
But economists believe the second quarter will be as good as it gets for the eurozone this year.
Amadeu Altafaj Tardio, Spokesman of EU Econimic & Monetary Affairs Comm., said, "Eurostat just announced that growth in second quarter in the euro area but also in the EU of the 27 member states was around 1 percent, this estimate is very good news for the European Union as it confirms that the recovery is not only on path but it is firm."
Experts point out risks still remain and fiscal consolidation policies should be implemented to keep public finance in order.
Figures across Europe show a wide divergence in performance and there are fears that a number of countries will remain in recession or will start contracting once again.
Panagis Karelas, President, Athens Traders' Association, Greece, said, "There is a climate of insecurity which has led to lower turnover. As a result of this, businesses are closing and increasing unemployment."
Cristina Gomez, Restaurant Manager, Barcelona, Spain, said, "I think that this will be a long recovery. Things cannot change from one day to the next. This cannot evolve as easily as some people think."
For now though, the EU thinks Germany's economic performance is giving the more indebted countries in the euro area more room to restore their public finances in order.
Related stories
Editor:Zhang Pengfei |Source: CNTV.CN