Watch Video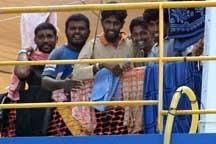 Play Video
Canadian authorities have intercepted a cargo ship carrying nearly 500 people thought to be Tamil asylum seekers.
The interception follows Canada's announced crackdown on boat people seeking refugee status.
The ship was carrying 490 migrants from Sri Lanka seeking to enter Canada as refugees.
But the Canadian government feared those on board may have included members of the Tamil Tigers, a rebel group considered a terrorist organization since 2006.
Tents were erected at a military base near Victoria, British Colombia to house the people from the ship.
Immigration officials will process the passengers, who will also be taken into police custody.
Vic toews, Canadian Public Safety Minister, said, "As I have previously stated human smuggling is a despicable crime, and any attempted abused of our nations generosity for financial gain are utterly unacceptable. Our government is committed to protecting the safety and security of Canadians, and human smuggling and activities which endanger human life are offenses under the Immigration Refugee Protection Act."
Canada is home to about 300-thousand Tamils, the largest such population outside Sri Lanka and India.
The Canadian government is taking a hard line with the latest arrival to discourage other ships carrying asylum seekers.
Hospitals in the Victoria area are on standby to treat people who may have taken ill on the long voyage and a jail near Vancouver is prepared to hold the migrants.
Editor:Zhang Pengfei |Source: CNTV.CN