Watch Video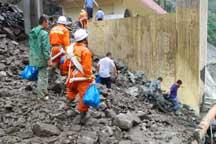 Play Video
At least 32 people are missing after rain triggered floods destroyed makeshift buildings at a hospital in Wenchuan County, in Southwest China's Sichuan Province early Saturday. Wenchuan was the worst hit area by the May 2008 earthquake.
Rain has been pounding Sichuan since Thursday. In Mianzhu City, at least seven people have been killed, 19 others injured and seven are missing.
In Mianyang City, electricity and communications in several counties have been cut. In Wenchuan County, the landslides have blocked the national road linking the county to the outside.
Local authorities have evacuated residents in dangerous areas, and have sent workers to clear barrier lakes to prevent further disasters.
Meanwhile, the Chengdu Military Area Command has opened a makeshift airport in Mianzhu to transfer injured, as well as bring in aid and other materials.
Related stories