Watch Video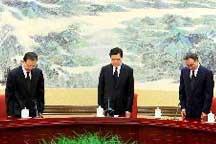 Play Video
Top Chinese leaders have observed a silent tribute for the victims of the Zhouqu mudslide.
The whole country is in deep sorrow.
On Sunday, the seventh day after the disastrous landslide that hit Zhouqu, China is remembering the victims.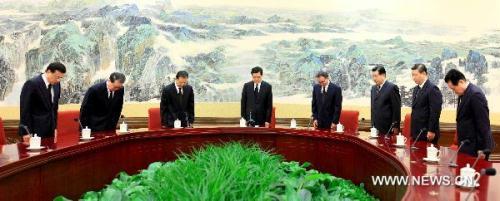 Chinese top leaders Hu Jintao (4th L), Wu Bangguo (4th R), Wen Jiabao (3rd L),
Jia Qinglin (3rd R), Li Changchun (2nd L), Xi Jinping (2nd R), Li Keqiang (1st L)
and Zhou Yongkang (1st R), pay a silent tribute in Beijing, capital of China,
Aug. 15, 2010, to mourn for the victims of the Aug. 8 mudslide disaster in Zhouqu
County, Gannan Tibetan Autonomous Prefecture in northwest China's Gansu Province.
(Xinhua Photo)
Chinese national flags across the country and at overseas embassies and consulates have been lowered to half-mast to mourn those killed in the mudslide. In Beijing, the landmark locations and authorities with flags at half-mast include Tian'anmen Square, the Xinhuamen, the Standing Committee of the National People's Congress, the State Council, and the Supreme People's Court.
All public entertainment has been suspended in a show of respect.
A meeting was held early Sunday morning in Beijing by senior leaders.
Just after the meeting began, President Hu Jintao proposed that all the members stand and observe a silent tribute to the victims.
The Politburo's standing committee members Wu Bangguo, Wen Jiabao, Jia Qinglin, Li Chuangchun, Xi Jinping, Li Keqiang, and Zhou Yongkang also took part.
Meanwhile, senior party official, He Guoqiang, who is on an inspection tour outside Beijing joined a local mourning activity there.
On the same day, other party and state leaders also took part in mourning ceremonies.
Related stories
Editor:Du Xiaodan |Source: CNTV