Watch Video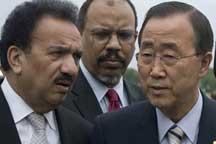 Play Video
More disaster victims in Pakistan have received aid supplies, while continuing to seek respite from devastating floodwaters that have rendered millions homeless. Meanwhile, UN Secretary-General Ban Ki-moon is now in the country to boost the relief efforts there.
Authorities say more surges have been coursing down the Indus River and other waterways in southern Sindh Province, where they are expected to peak again, causing a fresh round of chaos.
The floods have killed about 1,500 people, and aid workers are warning that diseases could further raise the toll.
Zoran Mai, Flood victim, said, "My son was martyred in the flood. He has five children. His father is an old man. We lost everything in the water, and I'm worried about his children's future."
As a result of the crisis, Pakistan canceled Saturday's celebrations marking the 63rd anniversary of its independence from Britain.
UN Secretary-General Ban Ki-moon landed in the country on Sunday. Upon his arrival, Ban called on the world to speed up the provision of disaster relief aid.
Ban Ki-moon said, "I am here also to see what is going on, and what more need, should be done. And I am here also to urge the world community to speed up their assistance to Pakistani people."
The Secretary-General has met with Pakistani Prime Minister Yusaf Raza Gilani in Islamabad, and is set to visit flooded areas.
The United States has donated the most to the relief effort so far, at least 70 million dollars, and has sent military helicopters to rescue stranded people, and drop off food and water.
Related stories
Editor:Du Xiaodan |Source: CNTV