Watch Video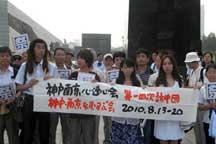 Play Video
The 15th of August marks the 65th anniversary of the victory of the Chinese people's war of resistance against Japanese Aggression.
People across China have taken part in different kinds of events to remember the day. A commentator's article published by the Xinhua News Agency says China aims at peaceful development and the promotion of peace and harmony throughout the world. It will make more contributions to the benefit of the entire human race.
In Nanjing, Chinese historians along with some colleagues from Japan held a ceremony at the memorial hall for the victims of the Nanjing massacre. In Hebei province, ten thousand primary school students visited a series of sites where major battles took place. Meanwhile, some border defense soldiers in Heilongjiang province laid white flowers in the Ussuri River in remembrance of the Chinese and Soviet soldiers who gave their lives in the resistance war.
Related stories
Editor:Du Xiaodan |Source: CNTV