Watch Video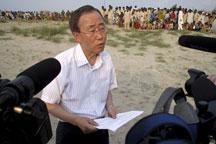 Play Video
UN Secretary-General Ban Ki-moon has visited Pakistan to get a first-hand glimpse of the flood damage.
He met with Pakistani government leaders and officials, and inspected some flood-hit areas. The UN chief is calling on the world to speed up the provision of disaster relief aid.
Ban Ki-moon got a better understanding of the magnitude of the floods after flying over some of the worst-hit areas in southern and central Pakistan.
The floods have already killed 15-hundred people and affected about one-quarter of the country.
The Pakistani government is facing a daunting task of resettling the flood victims and mobilizing resources for reconstruction in the disaster areas.
Once the floods recede, billions more in aid will be needed for the efforts.
Ban Ki-moon, UN Secretary-General, said, "These unprecedented floods demand unprecedented assistance. The flood waves must be matched with waves of global support. I want to announce today that I have decided to allocate a further 10 million dollars from the United Nations Central Emergency Response fund, making a total of 27 million dollars all together since the beginning of the crisis."
Ban Ki-moon says he has never seen a disaster as bad as the flooding in Pakistan. The country's President says the UN chief will be the spokesperson for Pakistan and their need of support from the world.
Asif Ali Zardari, Pakistani President, said, "He has seen himself and has promised us he will be the spokesperson for the people of Pakistan to the world and give our message to the world that we need support because this is a catastrophe which this region has never seen, it has never happened that such kinds of floods have ever affected any part of the world."
The International Monetary Fund warns the floods will likely bring dire economic consequences in a country already reliant on foreign aid to keep its economy afloat.
Related stories