Watch Video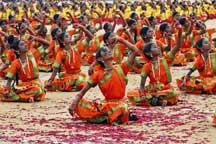 Play Video
India has celebrated the 63rd anniversary of its independence from British rule. The nation's Prime Minister used the occasion to appeal for an end to the ongoing violence in India-controlled Kashmir.
It was a solemn celebration.
As Prime Minister Manmohan Singh spoke at the historic Red Fort in Delhi, India-controlled Kashmir was still under curfew due to months of violence.
Singh appealed for calm in the region, which has seen sporadic clashes between government troops and protestors.
Two months of fighting have left at least 57 people dead.
Manmohan Singh, Indian Prime Minister, said, "Recently, some young men have lost their lives in violence in Jammu and Kashmir. We deeply regret this. The years of violence should now end. Such violence will not benefit anyone."
India and Pakistan gained independence after the partition of the Indian Subcontinent following the British withdrawal in 1947.
The two neighbors have been adversaries ever since, having fought three wars and conducting nuclear tests.
Peace talks between the two countries resumed last month. But Singh warned that efforts to improve the strained ties will fail if Islamabad does not act against militants allegedly operating from its territory.
Manmohan Singh, Indian Prime Minister, said, "Whatever differences we have with our neighboring countries, we want to resolve them through discussions. As far as Pakistan is concerned, we expect from them that they would not let their territory be used for acts of terrorism against India."
India's External Affairs Minister's visit to Pakistan in July was the first by a senior official since the Mumbai attacks in November 2008, which killed 166 people. India has blamed Pakistan-based militants for the attack.