Watch Video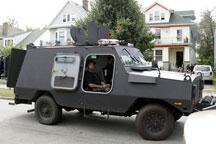 Play Video
Four people have been shot dead and four others wounded in a restaurant shooting in the US New York State.
It happened early Saturday morning as the group of people were heading home. One of the men killed was back in his hometown celebrating his first wedding anniversary.
It was meant to be a celebration. A gathering of friends on a night out.
Instead, it turned into their worst nightmare.
At 2.30am, the group was leaving a restaurant when shots rung out.
Four of them were shot dead, four others wounded.
Buffalo Resident, said, "Tonight was a celebration down here at the Chill Grill (sic), I'm not sure the name of it. All I got was a phone call, that they came out of the building and people started shooting. And everybody started ducking and he got caught. That's all I know."
Police have arrested 25-year-old Keith Johnson over the shooting. He's been charged with four counts of second-degree murder and could face more charges.
Dan Derenda, Buffalo Police, said, "This morning he was taken into custody by our Buffalo Police SWAT team, surrounded the house, took him into custody and we executed a search warrant. We cannot go into a lot of details right now about the arrest and or about the whole scenario that took place."
One of the men shot dead was celebrating his first wedding anniversary with his wife. She wasn't hurt.
The couple married in Texas a year ago and had returned to celebrate their special occasion with Buffalo-area friends and family.
One of the shooting victims remains in hospital in critical condition.