Watch Video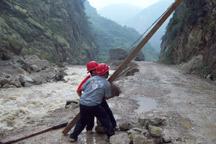 Play Video
The latest natural disaster to hit China is in Sichuan province. Heavy rains in the past three days have caused mudslides and flooding, killing 13 people and leaving 59 others missing.
Fortunately, local authorities evacuated most of the local residents, avoiding major civilian casualties.
This village near Mianzhu City was hit hard during a massive Sichuan earthquake in 2008 which killed at least 80-thousand people.
After being hit by the massive landslide, the village of Qingping became an isolated area, as the only entrance to the village was totally blocked by heavy mud and rocks. The power and water supplies, as well as telecommunication links were cut off.
Chen Tao, Official, local government, said, "The 2008 massive earthquake devastated the plantation and vegetation in the area, leaving only soil and rocks. This is one of the troubles left by the earthquake."
The torrents of water from the overflowing river swept through new apartment blocks where victims of the 2008 earthquake had been re-housed.
This street buried by the landslide, used to be Qingping's busiest commercial area. Relief workers have now cleaned up the debris caused by the landslide, turning the street's business back to normal.
The State Council Working Group on Disasters arrived at Mianzhu city, trying to work out how much damage had been caused, and organize relief work.
In Yingxiu town,Wenchuan County, landslides triggered by heavy rains blocked the Minjiang river, causing it to overflow, inundating roads and homes in nearby villages.
Two barrier lakes were formed by landslide debris on the Minjiang River. Each lake contains about 4 million cubic meters of water.
The county government arranged the evacuation of more than 8-thousand people to temporary shelters. Armed police and local rescuers are working together to release the barrier lake water.
Wang Quan, rescuer from Armed Police, said, "There are a lot of huge rocks underneath the water. We are moving forward, slowly, nonetheless step by step due to hindrance. We are trying to ease the pressure from the barrier lake upstream."
Meanwhile, rescuers have been dispatched to remote villages to help locals evacuate from areas under threat from potential landslides.
Overall, the disasters have affected more than 500-thousand people in Sichuan province, and so far more than 20-thousand have been relocated.
Editor:Zhang Jingya |Source: CNTV.cn