Watch Video
Play Video
China's embassies in countries around the world and a number of overseas Chinese communities, have also held memorial ceremonies, collected donations, and sent condolences to Zhouqu survivors.
Dawn, August 15th, Singapore.
China's Embassy to the country holds a flag-raising ceremony. The flag is lowered to half-mast in respect to the victims of the mudslide.
A similar ceremony was held in front of China's Embassy to Indonesia. The Chinese Ambassador to the country say Chinese communities there have sent condolence letters to those who lost their homes and families.
Zhang Qiyue, Chinese Ambassador to Indonesia, said, "It's a misfortune that we had such a disaster, but we're lucky because of our great motherland, strong leadership, and the determination and joint efforts of the people, in and out of the country, to combat this natural disaster.
People from all walks of life in Indonesia have expressed their condolences to the victims for days, especially those in Chinese communities, who called or sent condolence letters to express their sympathy."
Similar events were held at China's Embassies and Consulates in a number of overseas cities including Sydney, Australia, New Delhi, India, Tel Aviv, Israel, and Berlin, Germany.
The Chinese Embassies in Moscow, Russia, and Paris, France, also lowered their flags to half-mast to express their sorrow and sympathy.
Meanwhile, in Tokyo, Japan, a donation was held inside the Embassy for those who lost their life's savings.
In Islamabad, the Associations of Chinese in Pakistan held a donation drive for victims of the mudslide.
And in the Netherlands, a hometown association from the Chinese city of Wencheng donated 20-thousand euros for the mudslide victims.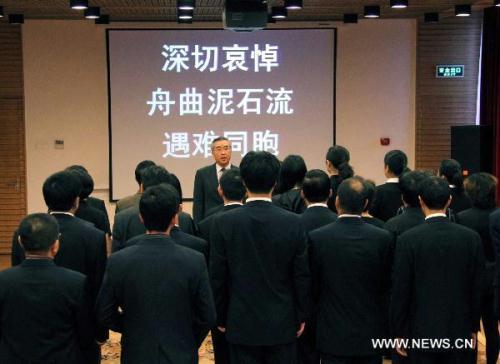 Staff members of the Chinese Embassy attend a ceremony in Oslo, capital of
Norway, Aug. 15, 2010, to mourn for the victims of the Aug. 8 mudslide disaster
in Zhouqu County, Gannan Tibetan Autonomous Prefecture in northwest China's
Gansu Province. China on Sunday held mounrings for the mudslide victims, all
over the country and at overseas embassies and consulates. (Xinhua/Li Guorong)
Related stories