Watch Video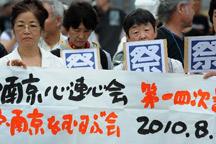 Play Video
Various memorial services have been held across China to mark the day Japan surrendered in World War Two. 65 years on, thousands stood silent at memorials and visited museums to get a sense of what happened more than six decades ago.
More than 300 Chinese people and Japanese pacifists held a memorial ceremony in the east China city of Nanjing on Sunday to mark the 65th anniversary of Japan's surrender in World War Two.
Japanese pacifists, relatives of the the Nanjing Massacre victims and seven delegates from Taiwan attended the ceremony. It was held at the Memorial Hall of the Victims of the Nanjing Massacre by Japanese Invaders.
Tamaki Matsuoka, from Japan's pacifists group Mei Shin Kai, held a banner which read "Remembrance of the past is the guide for the future."
He said, "In Japan, younger generations don't know much about the war between China and Japan. We hold lectures and rallies to tell them the history."
Other ceremonies were also held around China to commemorate the day.
In Shijiazhuang city in north China's Hebei province, about one-thousand local primary school students visited a local museum, to trace back the years of how the invaders surrendered.
A student said, "I feel shocked and moved. I feel I was put in the very scene of the war 65 years ago. This is different from reading a book. What we have now is so dear, and we should really cherish this. Bear the history in mind, and seize the opportunities today."
A picture exhibition about anti-invasion hero Ma Benzhai was held in Cangzhou city. Hundreds of pictures show how he led a group of Hui Chinese Muslims to fight the Japanese to the very end.
A new Museum of the war of Chinese People's resistance Against Japanese Aggression opened in Qinghuangdao city on Sunday.
In Tangshan city, local officials visited veterans who had been awarded medals from the war.
Editor:Zhang Jingya |Source: CNTV.cn