Watch Video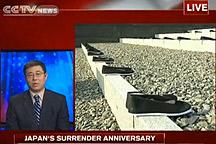 Play Video
Background: China marks Japan's World War 2 surrender anniversary
Various memorial services have been held across China to mark the day Japan surrendered in World War Two. 65 years on, thousands stood silent at memorials and visited museums to get a sense of what happened more than six decades ago. Full Story>>
For more insight into the 65th anniversary of Japan's surrender, we're joined by our current affairs commentator, Professor Hua Shiping, a visiting fellow, from Peking University.
Lessons learnt from history
1: Sunday saw quite a few activities across China to mark the anniversary of Japan's surrender. And all around the world, many people have shown their desire for peace. What lessons can we learn from history?
Insight into Japan's move
2: Japanese Prime Minister Naoto Kan used the occasion to apologize to Asian countries for aggression during the Second World War. He's also stayed away from the controversial Yasukuni Shrine. How do you interpret his moves?
Editor:Zhang Jingya |Source: CNTV.cn