Watch Video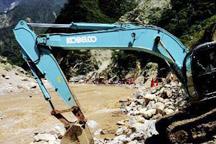 Play Video
The city of Mianzhu is one of the places that suffered most in the deadly landslide in Sichuan Province. But before the disaster struck, the local government of Qingping Town took emergency precautions. Around 5 thousand people were transferred to safety.
Rain was heavy on the evening of August the 12th, before the landslide disaster. Thousands of villagers were awoken by gongs and loudspeakers saying " Run quickly, floodwater is coming".
Villager, said, "The rain was heavy at that time, I can't describe it. The alarm came from along the road. Loudspeakers were used to evacuate people to higher, safer places. "
Three days before the disaster, Qingping Town had received a warning of heavy rainfall. Geological disaster monitoring offices went on 24-hour alert following this. At 8pm on August the 12th, village leaders went door-to-door to inform people to be ready to evacuate.
Chen Tao, Official, Qingping Town, said, "When the rainfall reached the level of a downpour the local authorities started its emergency precaution plan. People were then informed of the evacuation by police vehicles, and transferred to a higher place."
According to the emergency plan, families that have young children or the elderly living with them must be informed of the evacuation plan on a door-to-door basis.
The reason for the successful transfer was due to the senior police officers and the local government. People were transferred quickly by two routes.
People evacuated from Qingping town that were in need of medical attention have all been transferred to the People's Hospital in Mianzhu City. Meanwhile, Qingping town's main commercial street has already reopened following the clean-up work.
Editor:Yang Jie |Source: CNTV.CN