Watch Video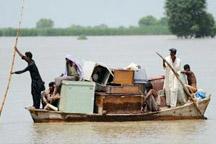 Play Video
UN Secretary-General Ban Ki-moon has visited flood-ravaged regions in Pakistan. He's called on the world to speed up the provision of disaster relief aid. Pakistan authorities have warned of more flooding in the week ahead.
Ban Ki-moon got a better understanding of the magnitude of the floods by flying over some of the worst-hit areas in southern and central Pakistan.
Ban Ki-moon said, "I will never forget the destruction and sufferings I have witnessed today. In the past I have visited scenes of many natural disasters around the world but nothing like this. The scale of this disaster is so large, so many people in so many places in so much need."
The floods have already killed 15-hundred people and affected about one-quarter of the country.
The Pakistani government is facing a daunting task of relocating and resettling flood victims and mobilizing resources for reconstruction efforts in the disaster zones.
Once the floods recede, billions of US dollars more in aid will be needed for the efforts.
Ban Ki-moon said, "This disaster is like very few the world has ever seen. It will require response fully up to the scale of this catastrophe. All of us must give it our maximum effort. Together let us rise to this challenge. Let us give, let us act, let us stand with the people of Pakistan on the long and hard road ahead."
Pakistani authorities are warning of more flooding to come in the week ahead, adding even more urgency to the massive international relief effort already under way.
Army helicopters are doing food and water drops over camps for the stranded flood victims.
Sindh's Irrigation Minister says a dam in Sukkur is facing a major test of its strength, as flood waters gush down the River Indus into Pakistan's highly populated agricultural heartland.
Editor:Yang Jie |Source: CNTV.CN