Watch Video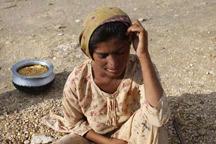 Play Video
Pakistani authorities have warned the country's flood disaster could get worse over the coming week with more rain forecast. It comes as victims struggle to survive. Many have no food, clean drinking water or shelter.
Only the tips of trees and small pockets of dry land can be seen amongst the muddied water.
Flood victims cling to makeshift islands, loaded with recovered possessions and livestock.
Donkeys have been assigned the tough mission of carrying relief to stranded people.
Pakistani army helicopters have been conducting food and water drops to some of the stranded flood victims.
But, it's not just the threat of starving or dehydrating that's worrying survivors. Hundreds of people in Peshawar are reportedly suffering from diarrhea and vomiting.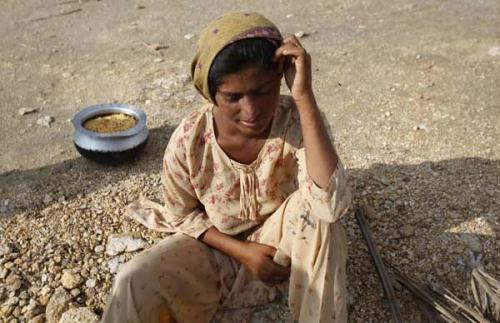 A woman fleeing from floodwaters sits with her food handout while taking refuge on a
mound in Sukkur, in Pakistan's Sindh province August 16, 2010. Pakistan authorities
forecast on Monday a brief respite in rains that sparked the country's worst floods
in decades, but aid agencies warned help was too slow to arrive for millions without
clean water, food and homes. (Xinhua/Reuters Photo)
Mother Nafeesa Bi Bi said, "Floods totally destroyed our village and houses, our children have become sick. The government must help us out."
Medical staff at a hospital in north west Pakistan say they have a limited number of beds to admit patients and that the priority is sick children.
Dr. Fazal Rehman, Pakistani Hospital, said, "We have treated 100 to 200 patients. Most of them have been discharged, but we are giving treatment to 30 to 50 patients on a daily basis."
Cholera, which can spread rapidly after floods and other disasters, still poses a dangerous threat.
The disease has been detected in the northwest, but there have been only a few reported cases so far.
The United Nations has appealed for an initial 460 million US Dollars to provide relief. About 60 percent of that amount has so far been handed over.