Watch Video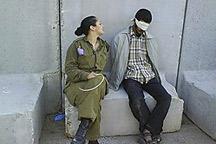 Play Video
A former Israeli soldier has drawn sharp criticism from both the Israeli military and Palestinian officials over humiliating photos she's posted on Facebook. The photos are of herself in uniform smiling beside bound and blindfolded Palestinian prisoners.
Israeli news media and bloggers have identified the young woman from her Facebook page as Eden Aberjil. No official has confirmed her identity. It's not clear whether the army could punish Aberjil, because she's finished her compulsory military service. The incident is a reminder of the highly charged relations between Israeli soldiers and the West Bank Palestinians under their control.
Capitain Barak Raz, Israeli Military Spokesman, said, "These are disgraceful photos. The IDF does not condone this sort of behavior. Aside from matters of information security, we're talking about a serious violation of our morals and our ethical code and should this soldier be serving in active duty today, I would imagine that no doubt she would be court-marshaled immediately."
In this undated photo, originally posted on
a Facebook page belonging to Eden Aberjil,
and taken from the Israeli blog site sachim.
tumblr.com, an Israeli army soldier poses in
front of blindfolded men identified in the
Israeli media as Palestinian prisoners. The
Hebrew in the top right translates as, "Eden
Arberjil's photos - army...the best time
of my life." Israeli news media and bloggers
have identified the soldier in the photos as
Aberjil. (AP Photo/sachim.tumblr.com)
Ghassan Khatib, Palestinian Authority Spokesman, said, "This picture of an Israeli soldier enjoying humiliating Palestinian prisoners is an example of the day-to-day life of the Palestinian people under occupation. It indicates that occupation is the cause of suffering and humiliating for the Palestinian people every day and it's an indicator to the fact that the occupation also corrupts the Israelis."
Related stories
Editor:Zhang Jingya |Source: CNTV.cn