Watch Video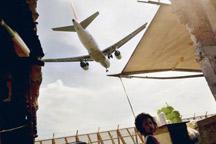 Play Video
Philippine Airlines cabin crews are threatening a strike that will cripple the companies operations. The two sides have been unsuccessful in talks on two main issues -- mandatory retirement age and pregnancy leaves.
Philippine Airlines' 1600 strong flight and cabin crew is gearing up for a massive strike that will paralyze operations of the country's flag carrier. Airline workers have been in talks with management in the last 3 years on 2 issues-early compulsory retirement for female flight crews and payment of pregnancy leaves.
Workers' Union president Bob Anduiza says management's ruling on retirement is highly discriminatory.
Bob Anduiza, President, Flight Attendants and Stewards Assoc., said, "Pal management belongs to the old thinking wherein, in fact, the union has been asking, do you have a study that shows that people buy ticket because there are young flight attendants? Do you have anything to prove that?"
Under the existing agreement, male and female flight attendants are required to retire by age 40. Other airlines' allow retirement at 55.
Experienced Phil. Airline Flight Attendants are paid 2000 dollars per month compared to 4-5000 dollars per month offered by foreign airlines.
Phil. Airlines claims it incurred losses of at least 333 million dollar package to settle economic issues in the collective bargaining agreement for the period 2005 to 2010. Anduiza says the amount is not enough.
Anduiza said, "In 2007-2008, they made money, they gave themselves increases-the ground, the pilots, and the management themselves got increases. The flight attendants did not get anything. In 2009, they lost because of fuel engine. Its a management decision, so in spite of that we have proposed a scaled down proposal. We were willing to lessen our demands. Now they're claiming turn around. They're making money. How come they're still not offering us?"
Travel agency players are sympathetic to the flight attendants' plight and hope that both parties meet eye to eye.
Hellen Hao, Philippines IATA Agents Travel Assoc., said, "We hope that they decide carefully. It is for our national interest."
Reporter Candy Giron said, "The department of labor and employment has been tasked by president Auino to intervene in the row between Pal management and employees but it is keeping its participation to a mininum. Anduiza says his group will oppose any government takeover of the airline's management. He believes only management will benefit from the takeover."
Another round of negotiation is set for this week. If talks bog down, the union will be left with no recourse but to proceed with the strike.
Editor:Zhang Jingya |Source: CNTV.cn