Watch Video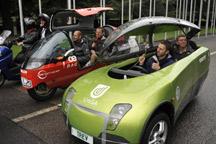 Play Video
Teams from Australia, Germany and Switzerland are competing in what they hope will be the first carbon neutral race around the world. The race began in Geneva and is expected to last 80 days, passing through 16 countries.
The vehicles will be charged from regular power outlets along the way, and this will be offset by pumping electricity into the grid from solar and wind plants back at home. This idea is to complete the 30-thousand kilometer trip without pumping carbon into the atmosphere.
Louis Palmer, race organizer said, "We want to know that we have solutions, there is climate change, the petrol is coming to an end, everybody knows, but we have the solutions like electric cars, renewable energy. That's what we want to show to the people all over the world. It runs, it works, we can even make a tour around the world in eighty days."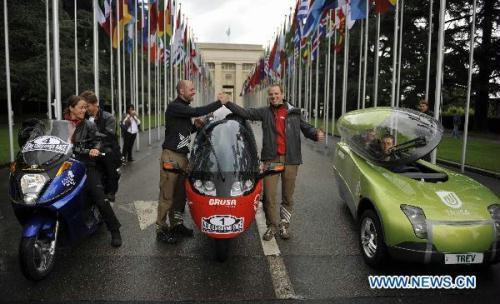 Drivers with their autos from Germany, Switzerland and Australia (from L to R)
wait for the start of the Zero Race in front of the Palace of Nations in Geneva,
Switzerland, Aug. 16, 2010. Four Teams from German, Switzerland, Australia and
South Korea begin the race with their zero emission autos. The Zero Race will
last 80 days and cover a distance of 30,000 kilometres in 150 cities of 16
countries and regions, including China's Shanghai. (Xinhua/Yu Yang)
The race will pass through 150 cities, including Berlin, Shanghai and Cancun, the Mexican resort where governments will hold a global climate change meeting at the end of November.
Jan Kubic, UN Environmental Programme, said, "I'm here to open this race on behalf of the United Nations Secretary-General Mr. Ban Ki-moon, whose definite intention is to seal the deal, if not in Copenhagen, then definitely in Cancun."
The competitors will be given points for style, technology and popularity rather than speed.