Watch Video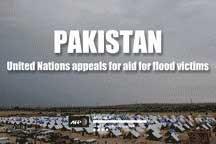 Play Video
Severe flooding in Pakistan has claimed more than 1400 lives and affected over 20 million people. One fifth of the country's land has been submerged. The United Nations has appealed for an initial 460 million US dollars in aid for the floods-ravaged country.
Pakistan's flood crisis sees no end in sight.
Rescue operation are still racing against time in flood hit regions.
In Punjab province, efforts are now focusing on the delivery of relief supplies.
Captain Usman, Pakistan Army, said, "We have deployed over here for the last two weeks, till now we have evacuated almost 2200 people from Tehsil Jampur. Now, basically, the rescue operation is over by now but right now we are majorly focusing on relief operations."
Addressing the needs of today's victims has been the priority but preparing for future problems, including preventing epidemics is taking on greater importance.
In the Northwest city of Charsadda, water tanks are being placed in different neighborhoods. But many people are still getting water from open wells that are most likely contaminated.
More worrisome is the report of waterborne diseases.
Pakistan's health officials said at least 36-thousand people in flood affected areas were suffering from diarrhea, with 39 having already died.
Dr. Mohmmad Ayub, said, "Allergies and diarrhea are the major diseases which we find here at our medical camp. So far, we treated over 1000 patients with those two symptoms."
The World Health Organization is preparing a contingency plan to assist the Pakistani government to prevent major outbreaks of infectious diseases.
UNICEF also warned that close to 3 and a half million children in Pakistan are at risk of contracting fatal diseases carried through contaminated water and insects. To combat this, the agency will provide clean water to six million people in flood-ravaged areas.
Editor:Du Xiaodan |Source: CNTV