Watch Video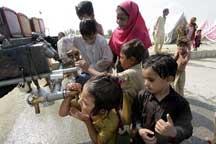 Play Video
Now here's Yang Weihan with more on the UN appeal for aid in Pakistan.
Floods began three weeks ago and now the Pakistan government is warning the swollen Indus River may burst its banks again.
Local charities and international agencies have rushed food, water, shelter and medical treatment to the worst-hit areas in the northwest and Punjab and Sindh provinces.
But the aid agencies say the international response has not been generous enough. The UN says Pakistan desperately deserves the world's attention and assistance.
Elizabeth Byrs, Spokeswoman, United Nations Aid Org., said, "According to the government there are over 14.5 million people affected in a way or another, to some extent. But the United Nations are focusing on the six million of people in need of direct humanitarian assistance, urgent assistance, and we are gearing up our operation to deliver it to those people."
Last week the UN appealed for 459 million US dollars for immediate relief efforts.
It has received 40 percent - about 184 million US dollars. An additional 43 million US dollars has been pledged.
Elizabeth Byrs, Spokeswoman, United Nations Aid Org., said, "The victims deserve our attention. We need to deliver, we need to stand shoulder by shoulder with the victims because it could happen in any country, it has happened in...you had floods in France, you had floods in Romania, in Europe. And we have to be helpful, we have to think that those victims are mothers, fathers, children, brothers and they need the assistance. Some of them are really already very poor. And they really deserve our attention."
As the UN warned that many of the 20 million people affected by the disaster have yet to receive any emergency aid, the World Bank said it will redirect 900 million US dollars of its existing loans to Pakistan to help in flood recovery.
Related stories
Editor:Zhang Pengfei |Source: CNTV.CN