Watch Video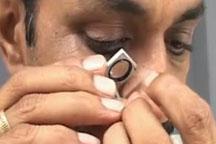 Play Video
About 15 hundred diamond merchants in western India have joined together to form one big company.
They want bigger buying and selling power in one of the world's diamond capitals. Matt East has the story.
The new mega company is called Surat Diamond Sourcing Limited or SDSL.
It plans to source freshly mined raw diamonds from across the globe and sell them to members using a tender system.
India polishes about nine out of every ten diamonds in the world - mostly tiny, cheaper stones that are less than a carat.
Rohit Mehta, a local Chamber of Commerce and Industry executive, says the company aimed to generate business worth 2 billion US dollars in a short period of time.
Rohit Mehta, Vice-President, Sthn Gujarat Chamber of Commerce & Insustry, said, "We are expecting that this is going to be very shortly a 10 billion plus company by virtue of equity participation of all the persons associated with the diamond industry."
Surat's good standing will help the company in a big way in the eyes of miners from across the world.
Parag Shah, Managing Diredtor, K Girdharlal, Diamond Exporter, said, "As a group of manufacturers, with the expertise and competitive advantage we have in Surat, we will be able to convince each and every miner, to be a preferred client in their list because of our strength."
The company will target countries like Canada, Russia, South Africa, Namibia, Zimbabwe, and Angola for the rough diamonds.
Surat will be able to receive 60 to 70 per cent of the rough diamonds mined across the globe. The new company aims to increase the share and reduce overall costs by eliminating middlemen.
Surat is at the heart of the diamond industry, built on the skills of its craftsmen, its cheap migrant labor and its legendary entrepreneurial spirit.
Editor:Zhang Pengfei |Source: CNTV.CN