Watch Video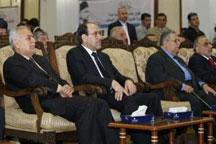 Play Video
The departure of US forces and the political stalemate in Iraq have left a power vacuum in the war-torn nation. Many are now wondering what will become of Iraq after all US combat brigades are gone.
The US says all combat troops will leave the country before September 1st. Six remaining Advice and Assist Brigades will then come into effect.
US commanders say this force will be big enough to counter any unexpected surges in violence.
But figures released from Iraqi Defense show the number of civilians killed in bomb attacks almost doubled in July. And in August alone, 200 people have died so far in different attacks. Analysts say al-Qaida's strategy has now changed from boosting sectarian killings to causing casualties and destroying the government's credibility.
The sum of these factors leaves a huge question mark in people's minds. Are the country's fractious Parliamentary parties, which have yet to form a coalition government five months after holding elections, capable of securing the country?
Experts say the government's inability to form a coalition has compounded the instability. And the country's neighbors....have made it worse.
In the east, Shiite-dominated Iran hopes the current Shiite government will continue to lead the country.
In the south, Sunni-dominated Saudi Arabia worries of rising Iranian influence in the region and the post-war dominance of Iraq's previously dis-empowered Shi'ite majority.
In the north, Turkey is inclined towards the Shi'ite Iraqiya list leader, Iayd Allawi. Turkey has long been opposing any attempt for the independence of Iraq's autonomous Kurdish region, so as prevent its own Kurds from following suit.
In the west, is Iran's ally Syria who is also supportive of Allawi.
Experts say, if you keep a watchful eye on the efforts made in forging a coalition government, you will notice as two parties become closer, an unsatisfied neighbor often steps in.
Iraq's foreign ministry says it is a "zero sum" game for all these countries.
Related stories
Editor:Zhang Pengfei |Source: CNTV.CN