Watch Video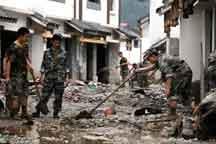 Play Video
New Yingxiu town in Wenchuan County, Sichuan Province is no longer submerged by the waters from the Minjiang River, after being flooded for the last five days.
As another round of rain fell on the new Yingxiu Town, the Minjiang River swelled. Its water flow volume reached 700 cubic meters per second, threatening the already-devastated area.
Rescuers from the armed police erected a barrier of sandbags to force the swollen River back to its original course. They finally made it on Wednesday morning, securing the town from flood waters. The rescuers also continued using excavators to reinforce the embankment and prevent more flooding of the town.
Liu Zhiyong, Armed Police Officer, said, "We are extending the embankment for another 20 meters, so as to strengthen the existing banks, and prevent them from falling apart. Or it would threaten the foundation of new Yingxiu Town."
So far, the efforts have been successful. A flood crest passed safely through the Yingxiu section of the Minjiang River on Wednesday evening, without damaging the embankments and the existing river banks.
As the flooding water recedes, mud, rocks and other debris emerge on the streets of the new Yingxiu town. And on the buildings constructed after the 2008 Sichuan Earthquake, you can see how severe the flooding was.
Huang Yuanliang, Yingxiu Government Official, said, "The work inside and outside the buildings had been done. These houses were about to be occupied by September, but because they were flooded, that must be postponed. "
All these indicate the daunting tasks of reconstruction the town is facing ahead in the coming period.
The new Yingxiu Town covers an area of a little more than one square kilometer, a third of which was flooded, mainly along the Mingjiang River.
Related stories
Editor:Zhang Jingya |Source: CNTV.cn