Watch Video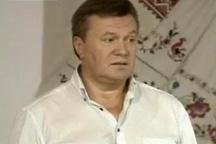 Play Video
The Ukrainian government has delayed setting widely expected grain export quotas that would cut exports by more than half. Ukrainian President Victor Yanukovich is promising his countrymen stable bread prices.
Ukraine is one of the world's top grain exporters. In the marketing season between July 2009 and June 2010, it exported 15.4 million tonnes.
However, Ukraine's grain crops in the current marketing season have been hit hard by severe frosts in the winter and a scorching summer.
Volodymyr Rusanov, Specialist, Myronivka Institute of Wheat, said, "If we compare this year with the last two "normal" years, we are short of some 2-3 tones of wheat per hectare."
According to a draft government resolution, Ukraine plans to limit wheat exports to 1.5 million tonnes and barley exports to 1 million tonnes from September to December 2010.
However, the Agriculture Ministry says an announcement regarding the quotas has been delayed until the next government meeting.
Meanwhile, Ukrainian President Viktor Yanukovich is reassuring his countrymen there won't be a significant increase of bread prices in the domestic market.
Viktor Yanukovich, Ukrainian President, said, "Despite the fact that this year we will have slightly lower yield, still the income we expect to get will be higher than it was last year. That's why I would say that at the end of the day we don't have grounds to expect a serious rise for bread prices, or that there will not be enough bread."
Ukrainian traders are against export quotas. They say the country could export 10 million tonnes of grain this season and export limits could cause local grain prices to fall and cut profits for grain producers.
Editor:Zhang Pengfei |Source: CNTV.CN