Watch Video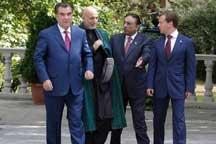 Play Video
A four nation security meeting has wrapped up in Russia's Black Sea resort of Sochi.
Russian President Dmitry Medvedev, together with leaders from Tajikistan, Afghanistan and Pakistan, issued a statement expressing willingness to jointly tackle the region's security issues.
High on the agenda at the summit was the situation in war torn Afghanistan.
Leaders from the four nations also emphasized the importance of combating terrorism, and drug trafficking, which has plagued peace and stability in the region.
Dmitry Medvedev, Russian President, said, "We are all faced by the problem of drug trafficking. It's our common problem and we should take joint efforts to solve it. Afghanistan would not be able to do it, nor Russia, as no country can solve this problem alone."
The leaders also discussed cooperation regarding economic policies, energy, transportation, natural resource development, and aid to flood-hit Pakistan.
Earlier in the day, Medvedev held bilateral talks with his Afghan counterpart Harmid Karzai. He indicated that Russia is willing to provide support to fight terrorism and help with the peace process in Afghanistan.
Dmitry Medvedev, Russian President, said, "Russia fully supports Afghan efforts to restore civil peace in the country, on overcoming the difficulties that the country experienced in recent years. We support the Afghan government's fight against terror and we're ready to provide support for that."
After the summit, Russian Foreign Minister Sergey Lavrov said his country is currently negotiating the sale of about 20 helicopters to Afghanistan. He also announced that Russia would soon provide a free shipment of firearms for the Afghan Interior Ministry and step up training of its personnel.
Editor:Zhang Pengfei |Source: CNTV.CN