Watch Video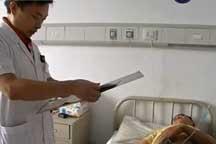 Play Video
Qingping residents who were injured in the mudslide have been transferred to the People's Hospital in Mianzhu city. Our reporter Shen Le has been there to speak to the staff who are giving their patients the best possible care.
CCTV reporter Shen Le said, "Tuesday night, two mudslide victims were transferred to this hospital. They were airlifted from Qingping village, one of the most severely hit areas. Today I'm going to find out more about their condition."
70-year-old villager, Meng Kangyou, has chronic tracheitis and gastritis. The gruesome effects of the mudslide have worsened his symptoms.
Zheng Min, director of Dept. of Infectious Diseases, said, "Meng's blood pressure is a bit high and he is suffering from an irregular heart-beat. We'll work on it."
Meanwhile, 36-year-old villager, Meng Xingfu, has a severe stomachache. Doctors at Qingping's clinic couldn't perform the necessary surgery due to lack of proper equipment.
A doctor of Mianzhu People's Hospital said, "He was acute appendicitis. We've confirmed that and minor surgery should do the trick."
More than 40 mudslides victims from Qingping village are receiving medical treatment at the hospital. All of them are now in stable condition. Doctors say most of the victims can expect a quick recovery.
Editor:Zhang Ning |Source: CNTV