Watch Video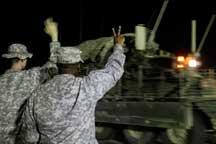 Play Video
The last American combat troops in Iraq have left Iraq, more than seven years after a US-led invasion toppled Iraqi former leader Saddam Hussein.
The 4th Stryker Brigade has 4,000 soldiers. 34 lost their lives in Iraq. 360 will stay in the country for an extra three weeks in a non-combat role.
The rest are driving through the night on the way to Kuwait, from where they will fly home to be reunited with loved ones.
There is a mix of jubilation and relief.
A US soldier said, "It's just a whole bunch of stress just off my shoulders, but it feels good to be in Kuwait, about to head home."
A US soldier said, "Best part of getting back to Kuwait? One, I know no one else will get hurt, and two, I am going home."
A US soldier said, "Glad we made it this far. One more step, and then we are one step closer to going home."
The withdrawal is well ahead of US President Barack Obama's August 31st deadline for ending US combat operations there.
US commanders say it was the brigade's idea, not an order from higher up.
A senior Obama administration official says the US troop strength in Iraq is now 56,000.
Obama has said the troop number is expected to be drawn down to 50-thousand by the end of this month. The soldiers staying behind will all be on a training mission for another year.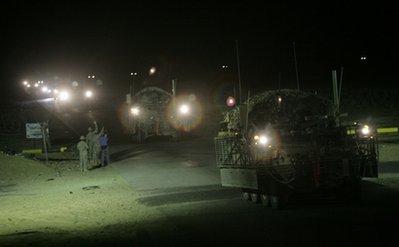 The last in a convoy of U.S. Army Stryker armored vehicles leave
Iraq at the Khabari border crossing into Kuwait, Thursday, Aug. 19,
2010. The U.S. Army's4th Brigade, 2nd Infantry Division is the last
combat brigade to leave Iraq as part of the drawdown of U.S. forces.
(AP Photo/ Maya Alleruzzo)
Related stories
Editor:Zhang Ning |Source: CNTV