Watch Video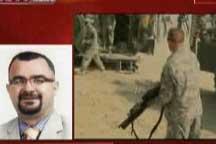 Play Video
The last American combat troops in Iraq have left Iraq, more than seven years after a US-led invasion toppled Iraqi former leader Saddam Hussein. Full Story>>
For more on the departure of US combat troops from Iraq, we are joined by our correspondent Baqi Naqid Naji in Baghdad.
Q1. The last American combat troops in Iraq have left. How have Iraqi officials reacted to the move?
Q2. A roadside bomb struck a US military convoy as it drove through the Taji area on the northern outskirts of Baghdad, setting one Humvee ablaze. Has there been any report on casualties from the attack? And is there public concern over whether Iraqi security forces will be able to do the job on their own?
Editor:Zhang Ning |Source: CNTV