Watch Video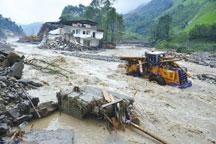 Play Video
Landslides and floods have killed about 15-hundred people across China in recent months. The mudslides in Gansu, Sichuan, and Yunnan provinces are the latest in a series of disasters that have followed heavy summer rains.
The death toll from the massive landslide in northwest China's Gansu Province has risen to 1,364 people. Another 401 individuals remain missing. Zhouqu County has been experiencing a bout of torrential rainfall since Wednesday. The storms lasted for more than 15 hours, and have complicated relief operations. Rescue teams have been working all day to clear debris from the main river.
In southwest China's Sichuan Province, a second landslide caused by a night of torrential rain is now being dealt with. It has been less than than one week since the last landslide in Yingxiu County. Rescue and relief work have been terribly affected. Many newly finished tasks have to be started all over again.
In southwest China's Yunnan Province, rescuers are still searching for survivors after landslides triggered by days of torrential rainstorms. At least 4 people were killed, and 88 remain missing in Gongshan Derung-Nu Autonomous County.
The landslides also destroyed a bridge, and caused the Nujiang River to swell, with the water mark increasing by up to six meters. Rescuers arrived immediately after the disaster to search for survivors. A disaster command center was set up by the local government to direct rescue and relief work.
Editor:Zhang Jingya |Source: CNTV.cn