Watch Video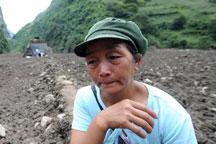 Play Video
Rescuers are still searching for survivors after mudslides slammed a remote town in southwest China's Yunnan Province early on Wednesday.
At least four people were killed, 88 remain missing, and 30 others have been injured by the incident in Gongshan Derung-Nu Autonomous County. Meng Lingqi has more details.
Mudslides triggered by days of torrential rainstorms struck Puladi Township at 1:30 AM, early Wednesday morning.
One survivor had a narrow escape from the calamity.
Survivor Ken Hongsheng said, "I was on the slope and saw the mudslide coming. I ran uphill as quickly as I could. I didn't sleep last night. My car was washed away."
Rescuers came in immediately after the disaster to search for survivors, and the injured were taken to nearby hospitals.
Wang Xuehong, police officer, said, "We arrived at two in the morning, just 30 minutes after the mudslide struck."
Dozens of houses were destroyed, and more than 1,000 residents have been evacuated to safe areas.
Roads, power supplies, and telecommunications were cut as well.
Clearing sludge and fixing the power supply system are two other huge tasks awaiting rescuers.
The mudslides also destroyed a bridge and caused the Nujiang River to swell, with the water mark increasing by up to six meters.
No barrier lakes were formed, however, and the level is now dropping, but rescuers have been watching over the river, in case of any emergencies.
A disaster command center was set up by the local government to direct rescue and relief work. By Thursday evening, transportation had resumed on the main road leading to the county, and the power supply system was basically fixed.
Related stories
Editor:Zhang Jingya |Source: CNTV.cn