Watch Video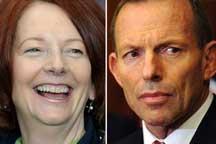 Play Video
Australians are on the verge of going to the polls in the country's general election. Opposition leader Tony Abbott said early on Thursday that he will campaign non-stop for a marathon 36 hours, in order to win support from undecided voters, while Prime Minister Julia Gillard is predicting a close result.
So far neither the governing Labor Party, nor the opposition Liberal Party, has taken a lead in opinion polls.
Abbott made at least four stops before different electorates in Queensland, before flying to Sydney for more campaigning in the evening.
He would then go on a radio talk show from midnight until 3 o'clock in the morning, before heading out to meet more voters.
Tony Abbot, Australian Coalition Leader, said, "I am determined to meet as many Australians as I possibly can."
Abbott has pulled the conservative opposition within reach of victory by campaigning strongly against government debt and waste, and by promising no new mining taxes.
But history may not be on Abbott's side. Australians have not voted out a government after only one term since 1931, when a deeply divided Labor Party was jettisoned in the wake of the Great Depression.
Speaking to reporters, Gillard predicted a close result.
Julia Gillard said, "It is tough, it is close, it is tight. It is a cliffhanger."
Gillard ruled out changes to her planned 30 percent mining tax if reelected on August 21st, even as powerful miners and Green lawmakers threaten to resume hostilities over the issue.
Julia Gillard said, "I have consistently ruled out any movement on the minerals resource rent tax. What I have agreed with Australia's biggest miners is what I will legislate."
The tax, which has weighed on the Australian dollar and mining stocks since it was first proposed in May, is a key issue in what polls suggest could be the closest election in 50 years, with Gillard's Labor Party on course to to maintain power.
Related stories
Editor:Du Xiaodan |Source: CNTV