Watch Video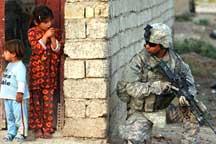 Play Video
Despite Iraq's deteriorating security situation, US forces continue pulling out under the bilateral security pact. There are mixed feelings about their departure with Iraqi officials optimistic as some citizens express concerns. Baqi Naqid Naji reports from Baghdad.
From Iraq toward Kuwait, the last American combat battalion left the Iraqi lands. This move comes in 12 days earlier than the deadline of 31st of August. The remaining American troops are 56 thousand, and there will be 50 thousand left by the end of this month. They will only conduct support and training missions till the end of 2011. Some Iraqi officials showed their optimism about this pullout.
Kamil Al-Kinani, Iraqi National Alliance, said, I think the pullout of the American forces will give the chance to the Iraqi forces to improve their performance and lead the security operations directly. The absence of the American forces will also reduce the security breaches which are caused because of the American presence.
However, common citizens are worried because of the aggravating security situation. The recent security breaches are providing the disqualification of the Iraqi security forces.
Iraqi citizen, said, "The pullout of the American forces in this time is proving for 100 percent that America is only working for its interest, all what it did was toppling a regime and brought a useless, un integrated and fragile government, and this withdrawal will leave security gap."
Iraqi citizen, said, "The security situation is deteriorated in Iraq, and the American forces are leaving the country in chaos, what will the Iraqi government do? Is this government capable of controlling the country?"
Baqi Naqid Naji, reporter, said, American leaders emphasized that the recent wave of violence in Iraq will not change the plan of the American forces pullout. However, with Iraqi government unless the the Iraqi government would ask to keep a number of the American combat troops for certain help or support.
Related stories
Editor:Du Xiaodan |Source: CNTV