Watch Video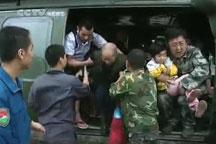 Play Video
Heavy rainstorms are continuing to pound parts of Sichuan province, leaving thirty counties and townships in Qionglai city battered by floods.
A group of rescue helicopters from Chengdu Military Area Command have flown to the disaster-hit areas to help relocate thousands of residents.
A whole day's rain submerged Chengdu Military Area Command's airport.
But the rain stopped at around 5pm on Thursday. Thirty minutes after the pilots got the order, two helicopters set off, heading to Qionglai, with rescuers and rescue equipment.
Deng Guifang, Battalion Chief, Army Aviation Regiment, said, "We received an urgent order from Chengdu Military Area Command that 20 thousand residents in Huilong county were stranded, the situation was not clear. We are now flying there to check the situation and help."
Along the swollen river, flooded houses can be seen almost everywhere. Large areas of crops have also been damaged. On the road, vehicles carrying relief supplies are rushing to disaster-hit villages.
Two helicopters landed near Jianta village, picking up 27 stranded villagers.
Villager, said, "Our crops have been washed away. Our houses are gone, pigs gone, we can't live here any more. We really appreciate the Party and government's help."
The villagers have been relocated to a safer place, Shou'an middle school. Then the helicopters return to drop food and drinks in a neighboring village as it gets dark.
Editor:Zhang Pengfei |Source: CNTV.CN