Watch Video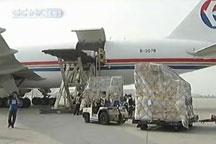 Play Video
China has sent another 20 million yuan worth of humanitarian aid and relief materials to the wildfire-ravaged Russia.
The 38-ton shipment mainly consists of fire-fighting equipment, including 2,000 gas masks, 1,400 fireproof suits, extinguishers, and portable air compressors.
The goods left Beijing on Friday morning by air and will arrive in Moscow this evening.
Related stories