Watch Video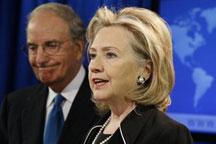 Play Video
U.S. Secretary of State Hillary Clinton has announced that the Israelis and Palestinians will resume stalled direct peace negotiations in Washington early next month. She urges both sides to reach a peace agreement within one year.
At a State Department special press briefing, Clinton said the U.S. government has invited Israeli Prime Minister Benjamin Netanyahu and Palestinian President Mahmoud Abbas to launch direct peace talks on September 2nd in Washington D.C.
Clinton stressed the peace talks should start without precondition, but acknowledged that the realization of the Middle East Peace is not easy.
Hillary Clinton, U.S. Secretary of State, said, "There have been difficulties in the past, there will be difficulties ahead. Without a doubt, we will hit more obstacles."
Also invited to attend the Washington talks are Egyptian President Hosni Mubarak and Jordan's King Abdullah II.
Clinton says the ultimate goal of the talks is the establishment of a viable, democratic and independent Palestinian state existing side by side in peace with Israel.
And the hope is that a comprehensive peace agreement can be reached within one year.
The US invitation of the Israeli and Palestinian leaders to Washington marks a small but important step toward easing tensions in the Middle East.
Editor:Zhang Pengfei |Source: CNTV.CN