Watch Video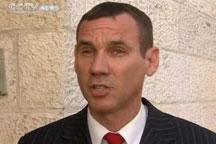 Play Video
After Hillary Clinton's invitation to resume direct peace talks in the Mideast, the Israeli government has welcomed the move while Palestinian leaders remain more cautious.
Mark Regev, Israeli Government Spokesperson, said, "Israel welcomes the American invitation to start direct peace talks with the Palestinians without preconditions, Prime Minister Netanyahu has been calling to start such talks for a year and a half now, and that it is indeed possible is something that we welcome. We have no illusions, the talks will be difficult but a peace agreement is possible, an agreement that protects Israel's vital interests and creates peace between Israelis and Palestinians."
Saeb Erekat, Palestinian Chief Megotiator, said, "I hope that the Americans, Europeans, Russians, and the UN, the members of the Quartet will have the Israeli government comply with the total stoppage of settlement activities. Many of the principles that appeared in the Quartet's statement have been their words, it's time to translate these words to deeds, we want to see to it that within one year negotiations on all core issues - Jerusalem, borders, settlements, refugees, release of prisoners, as specified in the Quartet's statements, is achieved."
Editor:Zhang Pengfei |Source: CNTV.CN