Watch Video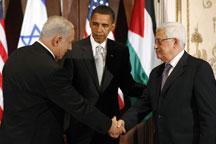 Play Video
Taking on the Mideast peacemaker's role has defeated many U.S. leaders, including former President George W. Bush. Now Barack Obama is taking on the job again.
Friday's announcement came after months of shuttle diplomacy by the Obama administration's Mideast envoy.
Winning agreement to at least restart the direct talks makes good on Obama's campaign promise to confront the Mideast conflict early in his presidency.
The symbolic handshake in Washington will also saddle Obama with one of the world's most intractable problems just when many other things, from a recovery in jobs to probable midterm election losses, are not going well.
David Makovsky, Senior Fellow, Washington Inst. Near East Policy, said, "He has pressed hard for these direct talks personally and we can all speculate if it's related to the midterm elections, wanting to show a diplomatic achievement, that he has got the talks started after all these months where it hasn't happened. I think it is an achievement for him."
The goal of the new round of Mideast peace negotiations is to reach a deal in a year's time... on the toughest issues that have sunk previous talks.
Those include the borders of a new Palestinian state and the fate of disputed Jerusalem, claimed as a holy capital by both peoples.
David Makovsky, Senior Fellow, Washington Inst. Near East Policy, said, "The idea that everything is futile in the Middle East is I think very unfair; we've had two peace treaties that have been pillars for peacemaking there. The Palestinian issue gets to the core and there's just too much history and too little geography and therefore it's a very different sort of peace treaty than you have with the Egyptians and the Jordanians that they have with the Israelis. But that doesn't mean that it's hopeless."
US President Barack Obama will hold separate discussions with Israeli Prime Minister Benjamin Netanyahu and Palestinian President Mahmoud Abbas on September 1st and then host a dinner for the two, before formally resuming talks the following day.
Related stories
Editor:Zhang Pengfei |Source: CNTV.CN