Watch Video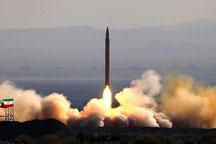 Play Video
Iran has test-fired a new surface-to-surface missile, Qiam. Iranian Defense Minister Brigadier General Ahmad Vahidi says the missile has "a range of new technical characteristics with high tactical capability".
One of the features of the missile is that it does not have flippers,which gives it tactical superiority. Another is that the possibility of being targeted by other missiles is very low.
Iran has not disclosed the location or time of the test. The country says it would stop higher-grade uranium enrichment if it is assured of nuclear fuel supplies for a research reactor.
Related stories