Watch Video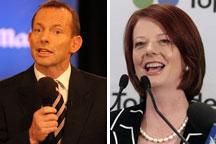 Play Video
Now let's take a look at both candidates' profiles.
Julia Gillard was born in Barry, Wales in 1961. She grew up in Adelaide and then went to study Law at the universities of Adelaide and Melbourne.
After graduating from College, she began working in a law firm and became partner when she was 29, while focusing on employment law.
Gillard was elected member of the Federal Parliament for the Labor Party in 1998.
From 1998 to 2001, she served on the House of Representatives Standing Committee on Employment, Education and Workplace Relations.
In 2001, she was appointed Shadow Minister for Population and Immigration and subsequently took on responsibilities for Reconciliation and Indigenous Affairs in 2003.
From 2003 to 2006, she was Shadow Minister for Health.
Gillard became Deputy Leader of the Labor Party when working under former Prime Minister Kevin Rudd. The Rudd-Gillard leadership team led Labor into government at the general elections in 2007.
Party power-brokers blame Rudd for dragging down the Labor-led government's popularity in opinion polls. Gillard seized the leadership unopposed when she challenged Rudd on June 24th in a party ballot.
52-year-old Tony Abbot was born in London to Australian parents and raised in Sydney, where he's lived for more than 20 years.
He studied Law and Economics in Sydney University, then went to study at Oxford University as a Rhodes Scholar.
Abbot briefly trained for the priesthood at a Sydney seminary before becoming a journalist.
From 1990 to 1993, he was press secretary and political advisor to the leader of the opposition Liberal Party, John Hewson.
From 1993 to 1994, he was Executive Director of Australians for Constitutional Monarchy.
He was elected Member for Warringah at a by-election in March 1994.
Abbot became leader of the opposition Liberal Party on December 1st, 2009.
Editor:Zhang Pengfei |Source: CNTV.CN