Watch Video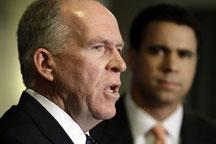 Play Video
White House counter-terrorism adviser John Brennan says the man convicted of the 1988 Lockerbie bombing should be returned to Scotland to serve the remainder of his life sentence.
It comes a year after Scottish authorities freed Abdel Basset al-Megrahi, the terminally ill Libyan national found guilty of the attack.
Megrahi was sentenced to life in prison in 2001 for his part in blowing up New York-bound Pan Am flight 103 in December 1988. 259 people on board were killed and 11 people on the ground in the Scottish town of Lockerbie. Many of the victims were Americans.
Megrahi has enjoyed a year of freedom in Libya after Scottish authorities freed him to return home in August last year on compassionate grounds. Megrahi, who has prostate cancer, was expected to live only three months -- but has survived, prompting U.S. questions about the medical advice on which the decision was based.
John Brennan, Presidential Advisor on Counter-Terrorism, said, "Clearly the prognosis of his near-term demise that prompted the decision of the Scottish executive to have this compassionate release, and we certainly take umbrage at that reference to compassion, because Megrahi did not have any compassion at all for those victims. So we are continuing to convey our sentiments to the Scottish authorities. We continue to call for his return to Scotland and that he serves out his prison sentence there."
Related stories
Editor:Zhang Pengfei |Source: CNTV.CN